Nimbin, NSW
Widjabul Country
Located in a medium to high-value koala habitat, this northern NSW property was previously used to graze Dexter cattle and has been extensively cleared. This 33-hectare ecological restoration project will provide a wildlife corridor, linking up remnant bushland between two national parks. Our aim is to restore the site to a thriving forest, increasing habitat for a range of endangered species (including koalas), improving biodiversity, and encouraging further natural regeneration. 
One of the challenges of this site is the shoulder-high Setaria (a thick, tufted, African pasture grass) that covers much of the planting area. This grass is very hard to plant into and slashing is difficult due to steep slopes and hidden rocks. 
In 2021, we began work on the 6 hectares allocated to bush regeneration. This included removing invasive species such as camphor laurel and privet. In 2022, we planted a diverse mix of approximately 70,000 native dry rainforest, sclerophyll and riparian species across the remaining 27.5 hectares. The species mix was highly diverse with a total of 104 species planted. Bush regeneration and site maintenance will continue over the coming years. 
Want to help fund current and future projects like this? Donate now to help restore Australia.
Your donations allow us to develop, plant and monitor our own native and biodiverse land restoration projects right here in Australia.

Donating to Carbon Positive Australia is tax-deductible for all contributions over $2.
Your monthly donations allow us to develop, plant and monitor our own native and biodiverse land restoration projects right here in Australia.

Donating to Carbon Positive Australia is tax-deductible for all contributions over $2.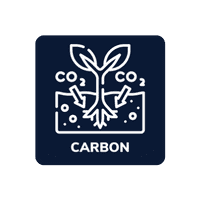 of ecological restoration
Planting Type: Biodiverse Carbon
Region: Northern Rivers, NSW
Planted: 2021 (bush regeneration), 2022 (planting)
Size: 33 hectares
Seedling Count: 69,500
Partner: Future Forests
ERF Registered: Yes (Environmental Planting Methodology)
Legal Permanence: 100 years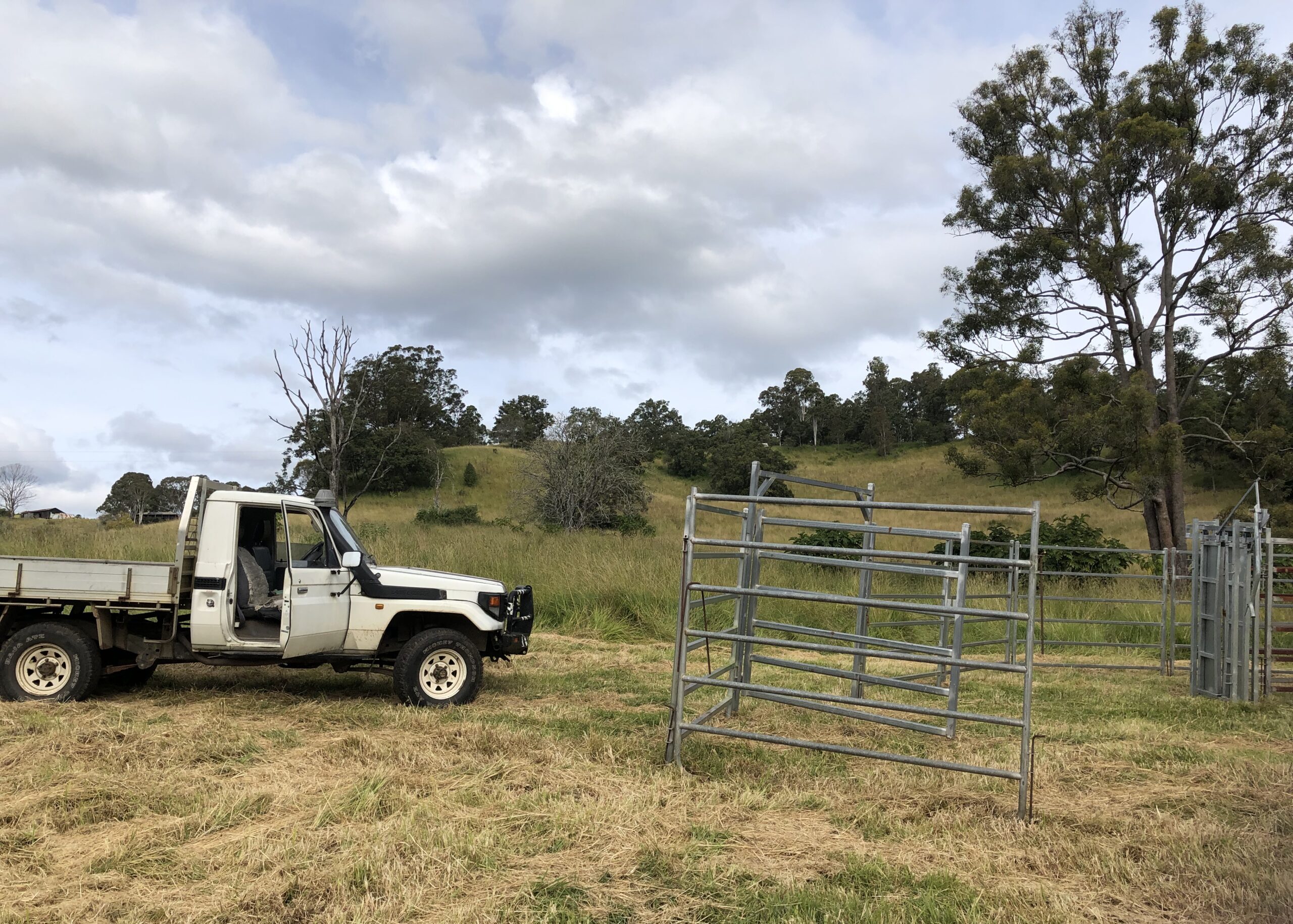 COMING UP
BUSH REGENERATION & MONITORING
Bush regeneration work continues on a 6 hectare parcel of the property that is home to regenerating hoop pine forest, a couple of endangered flora species (thorny pea), and a recovering riparian zone. Further monitoring assessments will be carried out across the coming years to assess the need for infill planting.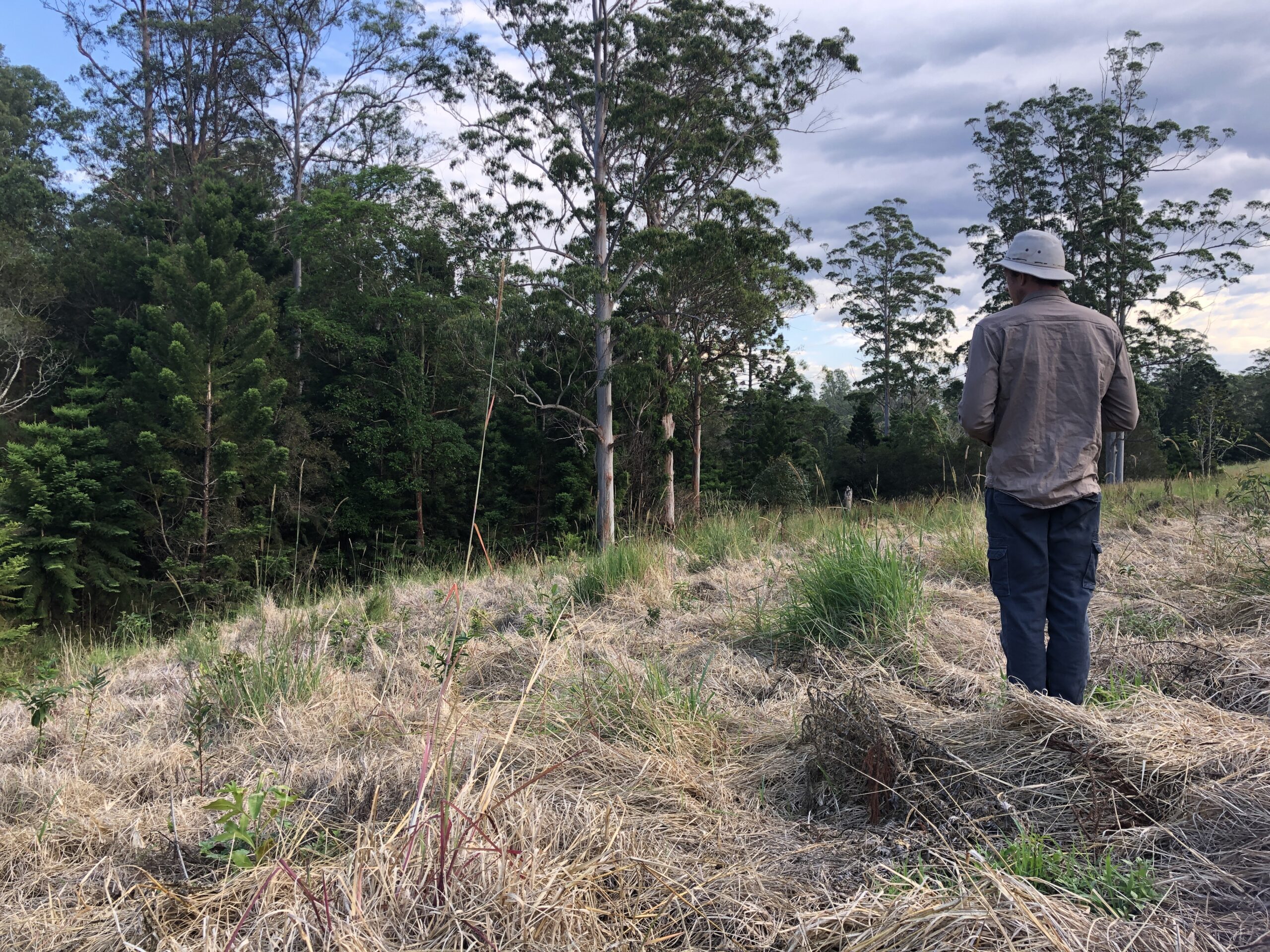 December 2022
Monitoring
Pollyanna (CPOZ) and Sam (Future Forests) conducted the first comprehensive monitoring assessment at Nimbin in December. Conditions varied between plots but overall growth was great and average density was 2,805 trees/ha. There was also evidence of naturally regenerating trees across some plots which indicates that previous bush regeneration work has been successful.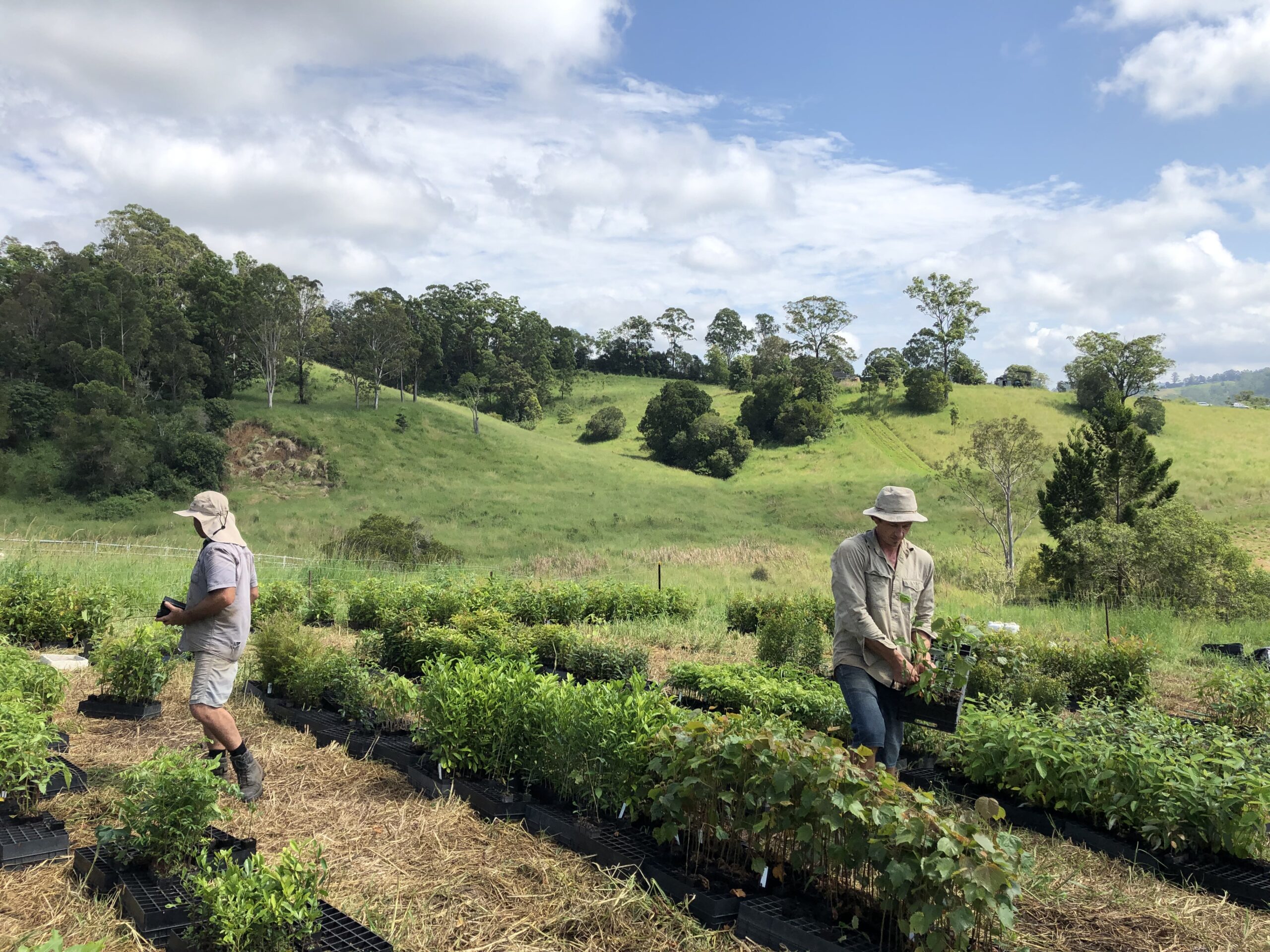 MAY 2022
PLANTING
Planting was originally scheduled to begin in early March, however, the Nimbin region, like much of NSW and QLD, experienced significant flooding. Although all of the mulch was destroyed, the seedlings miraculously survived. After further repair of the creek crossings, planting commenced in May. Over a four week period, the Future Forests team hand-planted more than 69,000 native seedlings across the property.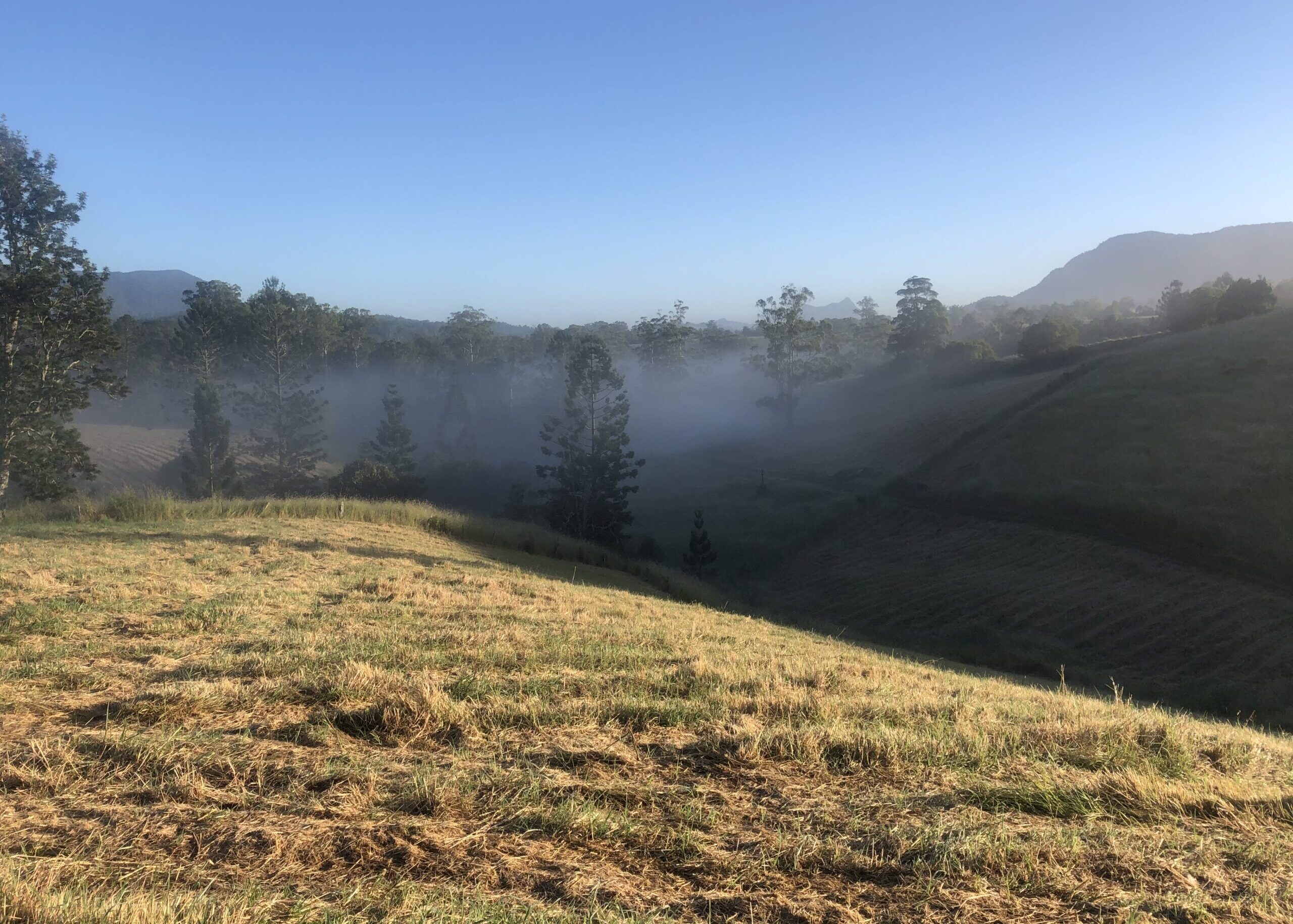 FEBRUARY 2022
PLANTING PREP
Site preparation is an integral part of the planting process and can have a significant impact on seedling survival and establishment rates. During February, the team from Future Forests slashed the shoulder-high Setaria grass in preparation for planting. This process reduces the likelihood of seedlings being smothered as they try to establish their root systems.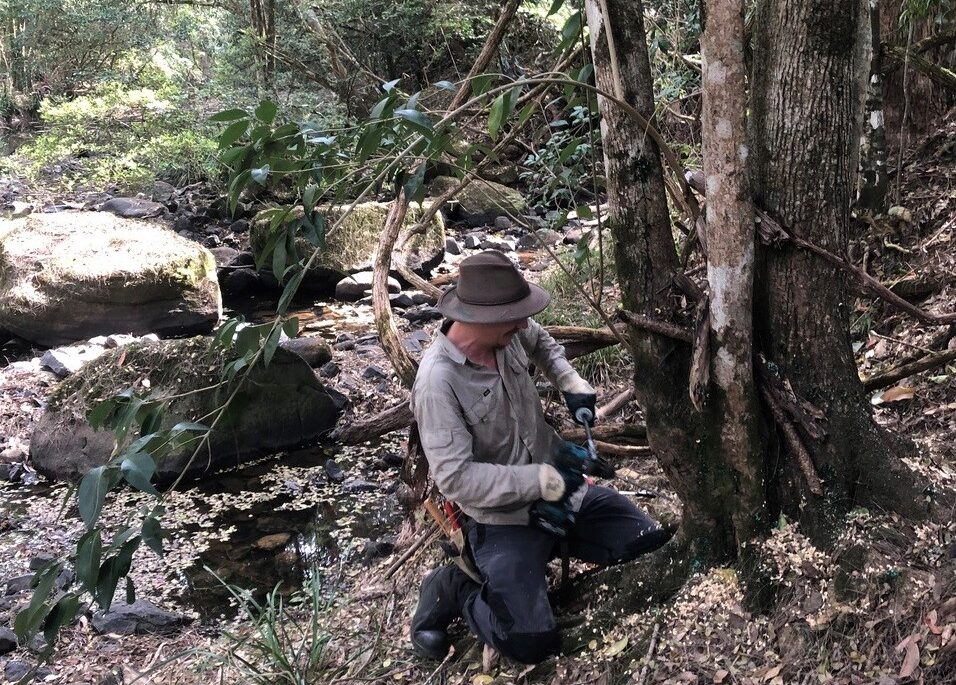 OCTOBER 2021
BUSH REGENERATION
Bush regeneration work began in October across a 6 hectare area, including a regenerating hoop pine forest and a riparian zone along Webster's Creek. The team from Future Forests treated and removed fast growing, non-native, invasive species such as camphor laurel, lantana and privet. These (and other non-native) species compete with and displace native vegetation, produce huge amounts of bird-carried seed, infest riparian zones, and can take over large areas.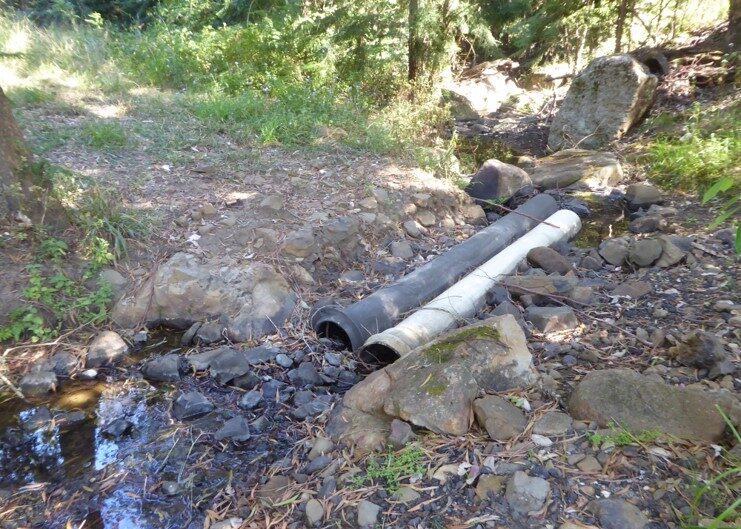 SEPTEMBER 2021
CREEK REMEDIATION
This site is located in a high rainfall area, averaging more than 1,150mm each year. Flooding in 2020 had washed away two key creek crossings that were to provide vehicle access to the planting and regeneration areas. These crossings were repaired by a local contractor to ensure access for planting in Feb/March 2022.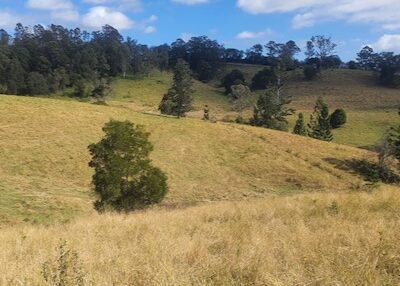 JULY 2021
SITE ASSESSMENT
Our planting contractor, Sam (Future Forests), undertook a full site assessment to determine soil structure, rainfall, and vegetation (including weed species and site challenges), in order to develop a planting methodology and establishment plan. The site's topography is very steep in parts, making planting a challenge. A mixture of natural bush regeneration and planting was proposed.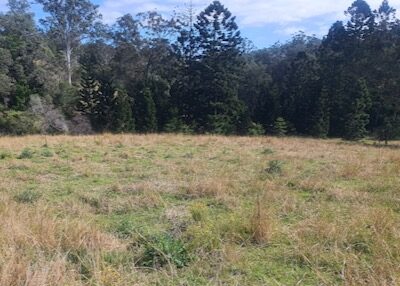 June 2021
INITAL SITE VISIT
Pollyanna (CPOZ) met with the landholder and planting contractor to discuss the site and the desired restoration outcomes. The landholder was keen to see the native forest restored and connected with remnant bush and riparian zones to increase habitat and connectivity for wildlife, including koalas. Native hoop pine forest was regenerating naturally in some areas near the creek, however large areas of open pasture were identified for potential planting.
Acacia 5 species • fast-growing • short lifespan • nitrogen fixing​
Casuarina 2 species • salt and drought tolerant
• attracts native birds
• nitrogen converter
Eucalyptus 5 species • high survivability in nutrient-poor soils
• fast maturing tree
• utilised for canopy cover
Other 92 species • all native to the area
• ground and canopy cover
• habitat for native fauna
Get Involved
Support comes in many forms. Find out more about how you can get involved today.