Our Work Across the Seasons
Your monthly donations allow us to develop, plant and monitor our own native and biodiverse land restoration projects right here in Australia. 
Donating to Carbon Positive Australia is tax-deductible for all contributions over $2.
You might know that our planting season takes place in winter, but do you know what we're up to during spring, summer, and autumn?
Seasons change, and we move with them. Come on a journey with us to discover how we grow through the months.
Winter is planting season and a busy time of the year for Carbon Positive Australia. We plant only native species and tailor the mix to replicate the area's native vegetation.
Whether we are planting a new site, or infilling an existing site, there is a lot to organise.
Seedlings and/or seed mix must be delivered from nurseries to the site, along with any necessary equipment.
Depending on the site, the planting team will use hand- and/or machine planting techniques to get the trees in the ground. Planting can anywhere from a day to a month, depending on the size of the project and the difficulty of the site.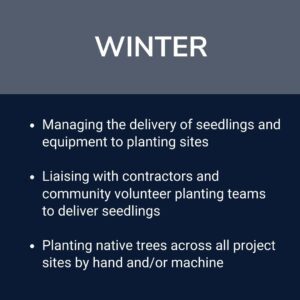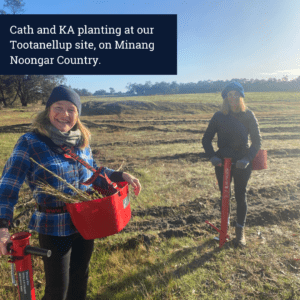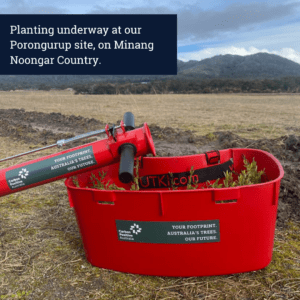 As the rains ease and wildflowers start to bloom, we return to our recently planted sites to see how the trees are faring. These visits help us gauge initial survival rates and determine if infill planting will be needed the following winter.
We also start planning for the next planting season. We place seedling orders with local nurseries and liaise with planting teams to schedule dates.
In most cases, native seed is collected by hand, dried and treated before being delivered to nurseries to be grown into seedlings. This process ensures the species are adapted to the local area, and that biodiversity is maintained.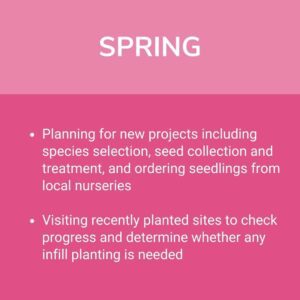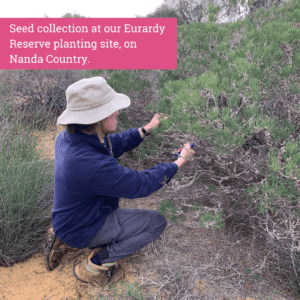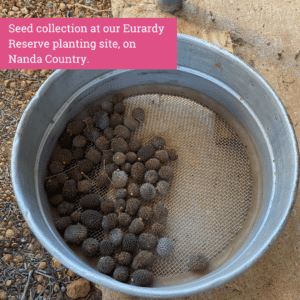 As the heat turns up, we are in regular contact with the nurseries ensure that the seedlings are healthy and that our orders will be fulfilled.
During this period, relevant carbon projects are registered with the Emissions Reduction Fund (ERF). Projects must be approved before any site preparation or planting can begin.
We also begin to make arrangements for upcoming monitoring assessments. This includes scheduling dates with contractors and landholders, and preparing the monitoring software.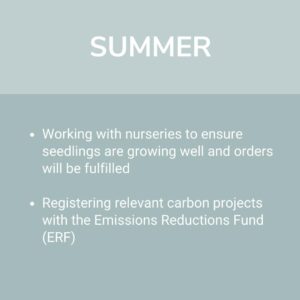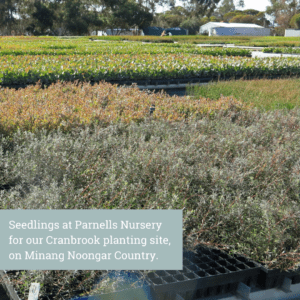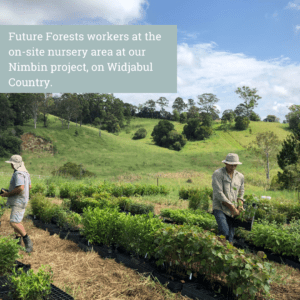 As the breeze picks up and leaves turn from shades of green to rust, we head back to our past planting sites to undertake comprehensive monitoring assessments. We establish permanent plots at each site and record the species, health, height, and pest damage of individual plants within these plots.
Monitoring is essential to track progress and determine whether any infill planting is required to achieve a successful restoration outcome.
Once we're back in the office, we analyse the information obtained from these assessments and report back to the site landholders and other stakeholders.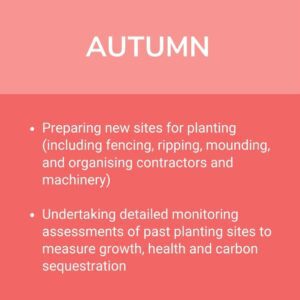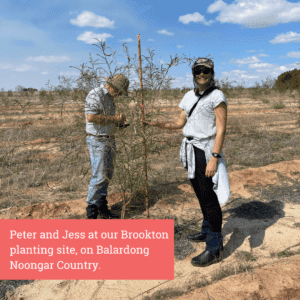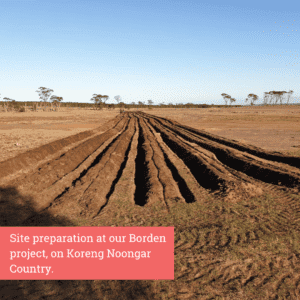 While each season holds specific requirements for our team, throughout the year, regardless of the season, we undertake site visits, complete project administration, and check in with our landholders and contractors.
This might involve visiting potential planting sites to assess suitability, registering projects, issuing legal agreements, and identifying and resolving any issues with our projects.
Seasons change, and so do we. Every year, we expand our work to increase our impact on behalf of our donors.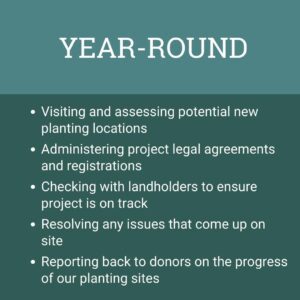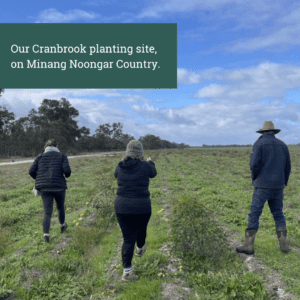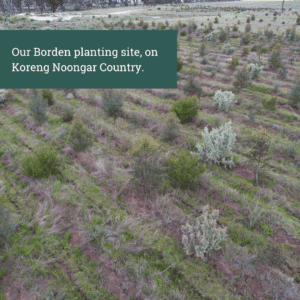 As you can see, our team works hard year-round to ensure our land restoration work not only succeeds but thrives. Your support as a regular monthly donor can help ensure funding for our work throughout the year.