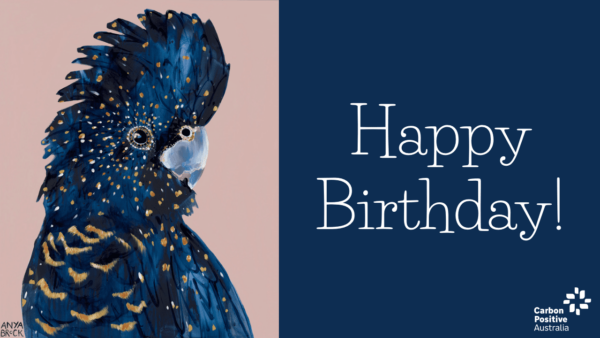 Artist Series: Anya Brock Original Art eCard – Happy Birthday
Our Artist Series of eCards feature original artwork by Australian artists. This one features artist Anya Brock's black cockatoo painting entitled "Waiting to be Saved".
Iconic Australian Artist Anya Brock is best known for her spirited and bold use of colour and strokes, exploring the connection between amplification and emotional mark making, creating a distinctive visual language in all her work.
Anya sees her work as semi abstracted interpretations of her subjects. Employing organic exaggeration and distortion –  the work is recognizably figurative without entering realism.
Her colourful original paintings and prints feature in the interiors of Australia's most contemporary homes and her larger-than-life murals can be found splashed across walls throughout Los Angeles, Sydney, Melbourne, Perth and Fremantle.
You can see more of Anya's work on Instagram @anyapaintface or visit her website.
Your ecard will be emailed to a recipient of your choice. See "Instructions" for guidance below.
Enter a donation amount of your choice.

IMPORTANT:  The donation amount will be hidden for the recipient.  You may choose to include the amount in your personalised message.

Add one or multiple recipients (separated by a comma).
Add a recipient name.

IMPORTANT: this will show the same for ALL recipients, so leave blank or use a general group callout (i.e. Friend) if you have more than one recipient.

Add a personalised message for all recipients (optional)
Choose the date upon which you'd like your ecard delivered.
Before you add your item to cart, please review your entries. While you may add and remove your cards from cart, you cannot edit their content from cart.
Artist Series: Anya Brock Original Art eCard – Happy Birthday