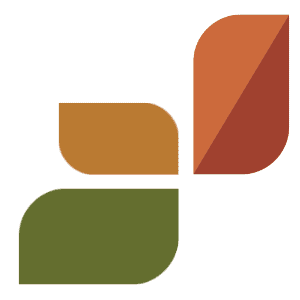 Case Study: Sample Coffee Co.
Sample Coffee Co is a small Sydney business that believes in the power or little things make a big impact. Their ethos is focused on offering a consistently high quality coffee experience in balance with a responsible business. practice based on respect, generosity and joy. As well as developing sustainable practices internally they also give a percentage of their profits to fund charitable environmental work. 
Please tell us a little about Sample Coffee and why it matters to you to be restoring Australia?
We are a coffee roasters based in Sydney's Inner West; we roast and provide coffee to other coffee shops and individuals through our online shop, and we also serve it in our three cafes located at St Peters, Surry Hills, and Chippendale.
Our mission is,  as we say to "source, roast, brew and serve the coffees we dream of drinking every single day". We want to offer a fun and consistently great coffee experience, with integrity and care for everyone and everything involved in the journey. Our focus is on more than just the bottom line, and we change and evolve to be the best we can as a business.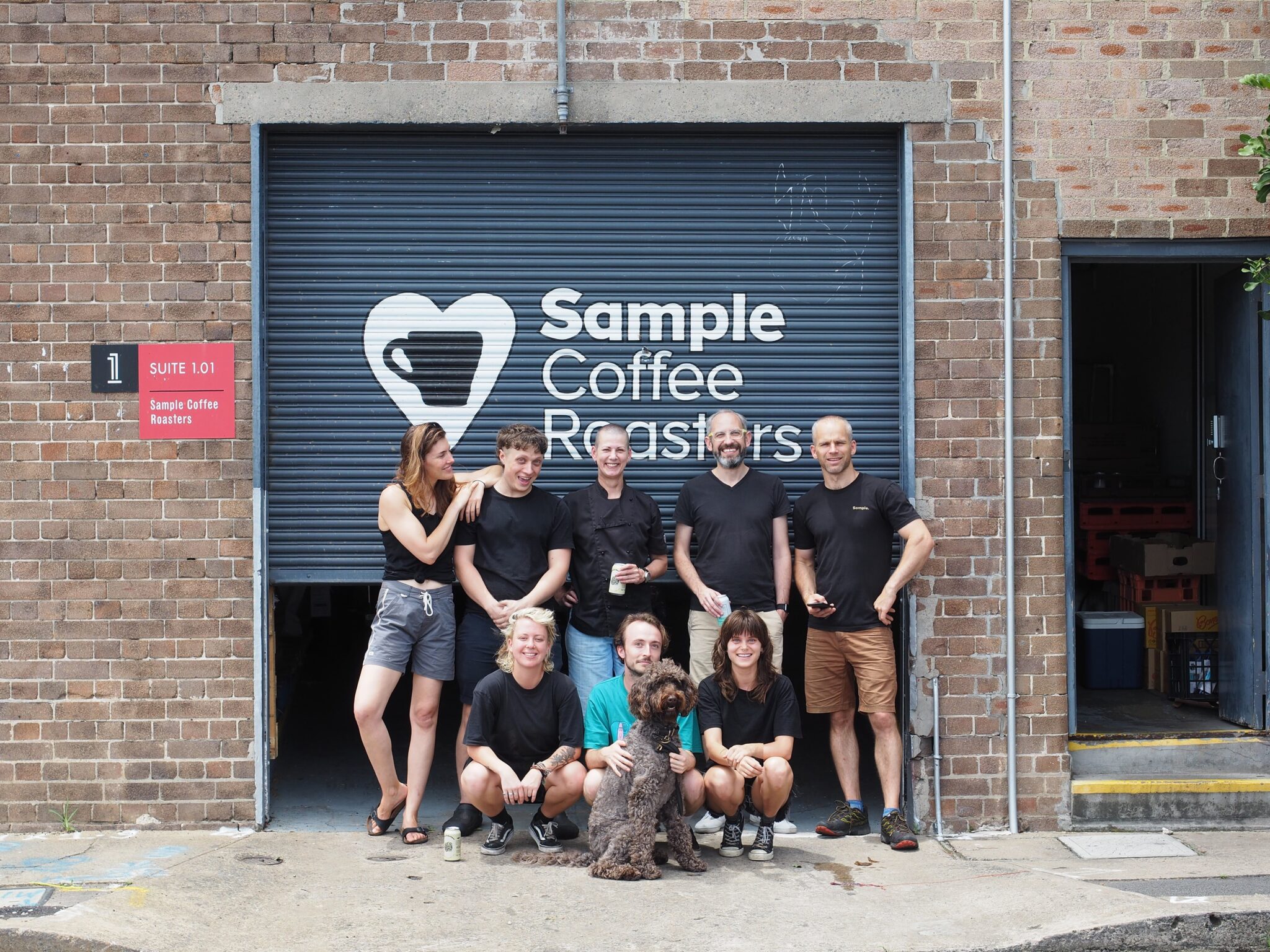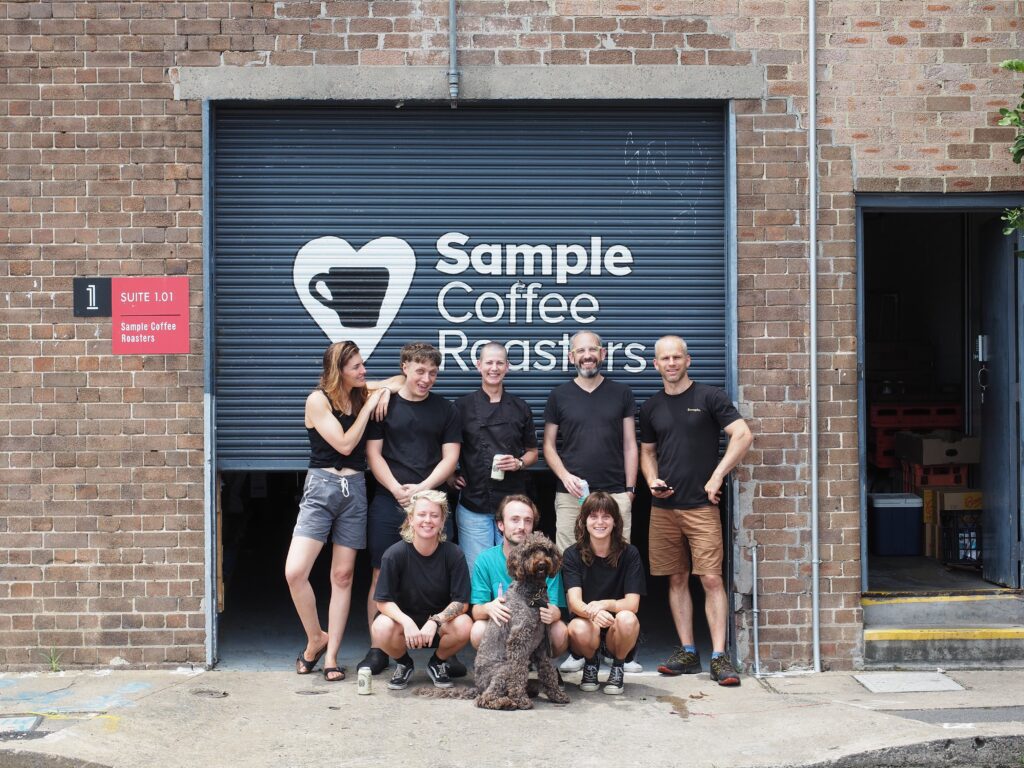 Why is caring for the environment important to Sample Coffee Co.?
Like many others, we just know (and believe) in the power of the natural environment to preserve our air quality and stablise temperatures, etc. Much of our team spends time in nature, and we love it. So it's important to us to use our business to give a little and contribute to the preservation of nature.
How are you working with Carbon Positive Australia, and what motivated you to work with us?
Since January 2020, we added a 20 cent 'levy' on all our retail bean bag sales. This means that with every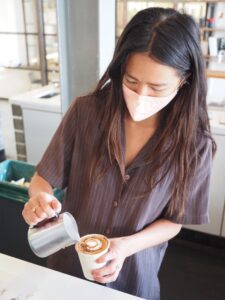 bag we sell, we're putting funds into a cause that takes immediate action in building or re-building forests. At the end of the financial year we donate the sum. We have been giving to CPoz to plant native trees.
We started after the big fires in NSW in January 2020. We have always donated money causes, but this system allowed us to donate on an ongoing basis and always in parallel with our sales volume — so more sales, more support, which is cool.
We chose CPOZ after doing some research and learning about their direct action. We liked that the use of funds was transparent and had a concrete use of planting trees.
Is your organisation working on any other environmental or social initiatives at the moment?
In the operations and strategy side of things, we always keep assessing and including new procedures that come to the market and help us reduce our footprint in an effective, realistic way. For example, during the last year or two we went 100% Greenpower for our electricity, introduced bamboo cups and the Return container swap system, and recyclable soft plastic packaging for our beans.
On the donations/philanthropy side, we keep donating to World Coffee Research and participating in small community grassroots activities. For example, we recently raised funds for an organisation that delivers food to those who need it, and supported the Lockdown Pastries initiative, which gave $6k to Beyond Blue.
We're always keen to add our bit whenever we can.
What environmental goals would you like to achieve? And by when?
We have a few that I can't name yet, but they all go towards reducing our footprint. 2020 and 2021 have been hard years for hospitality, and much of our efforts were deviated into making the business 'survive'. Hopefully, we will come back to 'normal' and investigate and install new procedures to achieve that broad goal.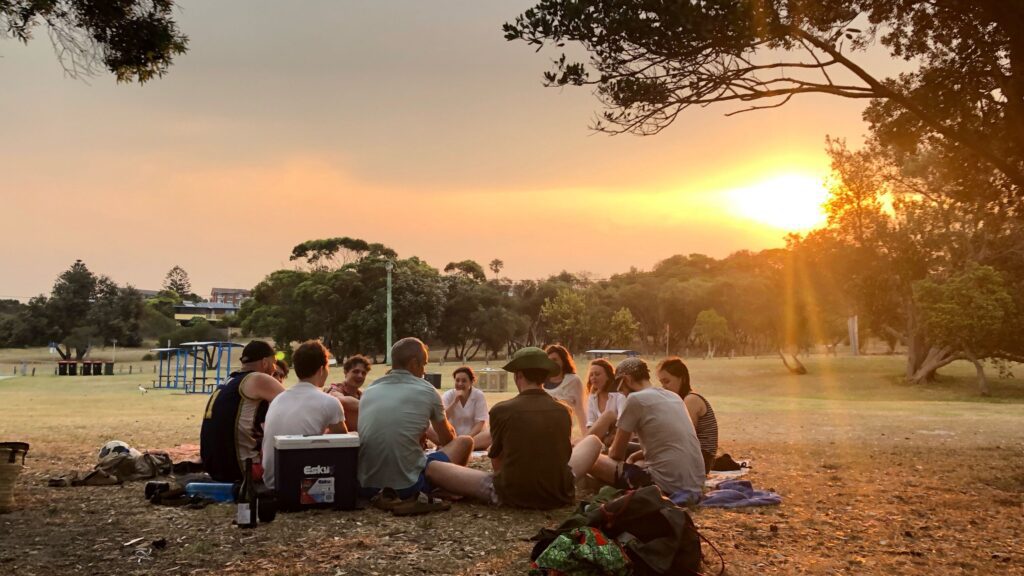 What role does the coffee industry have to play in making a change for the better?
Something great about the coffee industry is its capacity to reach and bond with many local communities. For so many people, coffee and their visit to cafes is part of their daily ritual, creating connections and relationships around it.
The coffee industry can have a massive capacity for change, using that scale and close connection with the people. We can use that scaling impact for the positive.
How can the coffee industry be an advocate for the environment?
In many ways; from sourcing coffee,  to the way it is served at cafes and by distributing profits. For example, one could try to source coffee from farms that use less impactful processing methods or source from smaller farms that exist within the existing native forest fabric.  A coffee shop could choose not to serve coffee in disposable cups and be powered by renewable energies. Or could donate part of their profits to a good cause.
There are so many ways to do something. It is true that is a hard industry, but we're big fans of "start where you are" and do something, even if it's small. It's better than nothing.
In what ways can we as individuals minimise the environmental impact/or our carbon footprint from coffee?
It's a tricky one. The one that has the biggest impact on the environment would be quitting coffee! But if you're not ready to do so, you could start by minimising your consumption to something that is reasonable, like 1-2 cups. 
It is important to choose coffee roasted by people who can tell you where it comes from and give other transparency metrics and reducing or cutting down on milk intake (perhaps even go plant-based milks). 
Avoid disposable cups; having your coffee in the shop is even better (our dishwashers are way more efficient than handwashing your cup at work). If you have it at home, heat only the water that you will use, so you avoid wasting unnecessary energy…
There are many little things to do, and we certainly aren't ones to tell people what to do. What we can do, though, is to offer as much information as we can, to source responsibly through our partners, and to put in place the most efficient systems so our footprint is the lowest it can be at each stage. And, of course, to use our business to give back and support those who are making this a better place.
To find out more about Sample Coffee Co's initiatives please click here.

Our business partners make it possible for us to plant more trees, sequester more carbon and have greater social and economic impacts than we could achieve alone. Help us work on the world's to-do list!
Our business partners make it possible for us to plant more trees, sequester more carbon and have greater social and economic impacts than we could achieve alone.
Help us work on the world's to-do list!
The answer to many common questions can be found on our FAQ's page.
If you have a questions that isn't covered, or would like to talk to a member of the staff, please fill out the form below.